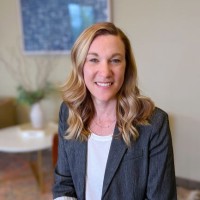 Abbey Cameron
Executive Director of the 3 Rivers Community Foundation
Q1) Can you tell us what the current priorities of the 3 Rivers Community Foundation are?
3RCF is focused on creating a vibrant community of donors to support Benton and Franklin counties. We are raising awareness of the opportunity philanthropy offers to leave a lasting charitable legacy. We also continue to stay connected to our nonprofit community so we can be a resource for our donors and for our board when making grant decisions. 
Q2) How does the Foundation generally use community data in its decision-making?
Community data is vital to 3RCF in our grantmaking process. We are typically reviewing 50 or more grant applications in a cycle, and always have more requests than we are able to fund. While we also use interviews to understand the human story in each of our grant requests, being able to rely on data is key to making difficult decisions between worthy applicants.
Q3) What specific indicators on Benton Franklin Trends do you pay most attention to?
3RCF funds nonprofits across sectors, from food insecurity, to housing, to the arts. In addition, many nonprofits have programs that offer multifaceted solutions to their clients needs. The areas we tap into most often are People, Economic Vitality, Health, and Housing.
Q4) Can you tell us about the vision of the Foundation and how will you know whether that vision is being realized?
Our vision is to be recognized as a trusted philanthropic leader in the local communities we serve through the delivery of quality donor services, impactful grants and scholarship programs, and bold initiatives that address community needs. Our vision is based around building support by earning the trust of our donors, and recognizing that community needs will change over time.
Q5) You moved here from Washington, DC. The move to the Tri Cities area must have been an adjustment. Are there some attributes of life here that might be captured in the Trends which surprised you when you arrived?
Tri-Cities is a place where you can really see the industries that built our communities, which is harder to see in a metropolitan area. Hanford of course is a big economic driver, but so is agriculture. Just from the people I've met and the activities around me I realize how little I understood about how agriculture, the seasons, even the weather can shape a community. I am still awed by the open views for miles and grateful for all the days of sunshine in Tri-Cities.