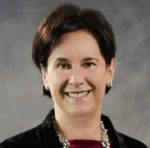 Dr. Sandra Haynes
Chancellor, WSU Tri-Cities
Q1) Under your leadership, WSU Tri-Cities has initiated a strategic plan process. Can you tell us when you will unveil the results, and in particular, what are your expected outcomes from the plan?
A1) Our campus began a planning process in September of 2018.  The process has an extensive baseline phase over this year through August of 2019.  By the end of the 2018/2019 academic year, we will have completed 4 town halls, 12 department meetings, 4 brown bag luncheons, 5 community presentations, an online survey and market research.
From these engagements, our steering committee will identify a framework that we will use to make our action plans in each department during the 2019/2020 academic year.
I desire to have four or five foci for our campus improvement that everyone can articulate and use to measure success over the next five years.