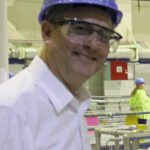 Matt Mathes
TRIDEC Mid-Columbia Energy Initiative Water Policy Subcommittee Chair / Badger Club Programs Committee Member
Q1. As planning leader in the Tri Cities, what metrics do you pay most attention to in your day-to-day work?
A1. I try to focus on only a few quality of life factors including economics, environment and energy metrics. My research and practice in regional planning and economics led me to understand each region can't always control the relative value of their community compared to others. One community could stay the same and become more valuable (more attractive) over time via declines among other communities, or the reverse. In a sense, Tri Cities region benefited from excellent resource stewardship and continuity of business relative to other metro areas now in decline because of lack of water, high power costs, lack of sunshine or not enough STEM talent – all abundant in Tri Cities region today.
Q2. Are there any indicators on Benton Franklin Trends that help inform your professional activities?
A2. Yes.  As the Mid-Columbia Energy Initiative Water Policy Subcommittee Chair, I frequently check all of the Environmental Sustainability metrics, plus a few economic metrics including income per capita, employment and real estate value trends plus the mix of energy supply by source all on the Benton-Franklin Trends website. As the former Mid-Columbia Energy Initiative Sustainability Task Force Chair 2014-2015, I'm proud to say I helped rank and score the final set of Environmental Sustainability metrics now available.